Health & Beauty Tools
Professional & Home use health and beauty tools at our stores…
You can find a variety of health and beauty tools that you may need for your beauty salon or even to have them at home.
Manicure Tables
Technician nail desk Manicure Tables…
We have different models of Manicure Tables equipped with fan for professional nail designs.
Medical Beds
See our high quality Medical, Massage & Cosmetic beds…
We have highly flexible manual beds in addition to Hi-Tech motor controlled ones.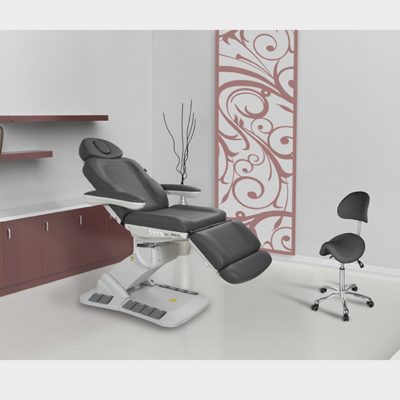 Model No: 2246EB+
Upmarket beauty chair with very stable structure specially designed to optimize the workspace byits 90 degrees rotation. 4 motors control height, backrest, seat and footrest inclination. Reclining armrests. The button panels and the foot controller built in the allow a complete control of all the functions from any point of the chair. Safety lock system included and includes reset function.
Product size: 187cm x 85cm x 67-120cm
Net Weight: 79Kg
Model No: 2242
Flexible, professional and multi-functional bed. It meets all requirements of a professional massage/cosmetic bed. The back and foot rests are adjustable manually. The armrest can be removed. A face cut is ideal for massages. It has 2 drawers for the tools and materials.
Product size: 185cm x 85cm x 68cm
Net weight: 30Kg